Growing strategic rivalry between Beijing and Washington leaves China's oil supply vulnerable. A joint pipeline with Myanmar could keep the lights on when it comes to China's energy needs and economy, Mamdouh G Salameh writes.
China is the most important driver of shifting dynamics in the global oil market. In 2013, the country overtook the United States to become the world's largest importer of crude oil, according to the US Energy Information Administration (EIA) (see Figure 1).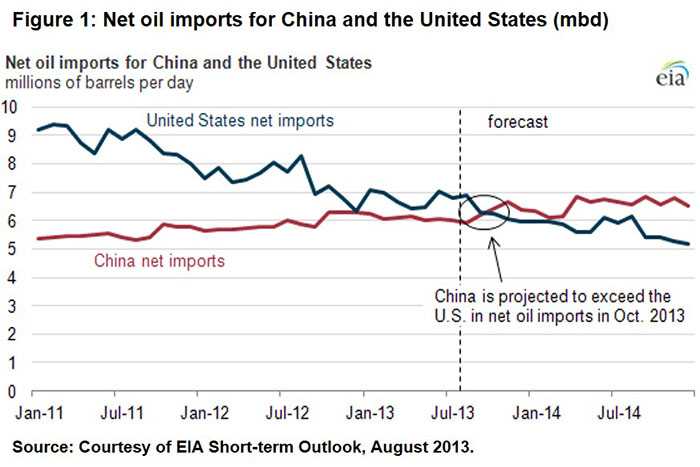 Since 1993, China has increased its oil imports from 20,000 barrels a day (b/d) to 8.54 million barrels a day (mbd) in 2016, with these imports accounting for 68 per cent of oil consumption. This is projected to rise to 74 per cent by 2020 (see Table 1).

This rise in consumption and in oil imports is the result of rapid GDP growth, urbanisation, and a sharp increase in the number of vehicles on the country's roads with some 300 million drivers in 2014. Another factor is the building of strategic petroleum reserves with the intention of stockpiling 90 days' imports or 1053 million barrels by 2020.
China's reliance on imported oil will only climb in coming years as its two largest oilfields, Daqing and Shengli, which account for the bulk of current oil production, are in decline.
Overshadowing this economic picture is the rising geopolitical tension between China and the United States. It is a rivalry that will shape the 21st century. The United States is the pre-eminent great power, but China is its challenger.
However, as historian Lanxin Xiang points out, "[the US] is also a super-indebted power, and its biggest creditor happens to be its presumed chief strategic rival."
During his election campaign, US President Donald Trump repeatedly castigated China, accusing it of gaining an unfair trading edge with the United States by manipulating its currency and threatening to slap tariffs on Chinese exports. He even mused about ending the 'One China' policy.
Chinese President Xi Jinping made it clear in a New Year's speech that his country will protect its national interests and prevent any foreign moves to restrict its freedom of action in Asia. More threateningly, the Chinese government has stated that any attempt by Trump to change the status quo over Taiwan would cross a "red line" and incur "revenge".
And to complicate matters further, growing tensions between Japan and China over the Senkaku islands in the East China Sea could escalate into armed conflict. If hostilities did erupt, the United States could be drawn in on the side of Japan as part of the two countries' security alliance.
Were a conflict to arise, the United States would try to starve China of oil from the Middle East, and with no oil China's economy would come to a grinding halt.
Much of China's imported oil from the Middle East must pass through a major chokepoint – the Strait of Hormuz – which is guarded by the US Navy.
Another choke point is the Strait of Malacca, through which 80 per cent of China's imported oil passes. With the Indian Navy guarding the northern end of this strait, and the US Navy the southern end, China is strategically vulnerable. This is what former President of China, Hu Jintao, referred to a number of times as the 'Malacca dilemma'.
That is why the newly-opened China-Myanmar crude oil pipeline is pivotal to China's oil security; it reduces its excessive reliance on seaborne oil imports.
The 479-mile-long oil pipeline, with a transport capacity of 442,000 b/d, runs from the port of Kyaukpyu on Myanmar's west coast and enters China at Ruili in Yunnan Province (see Map 1).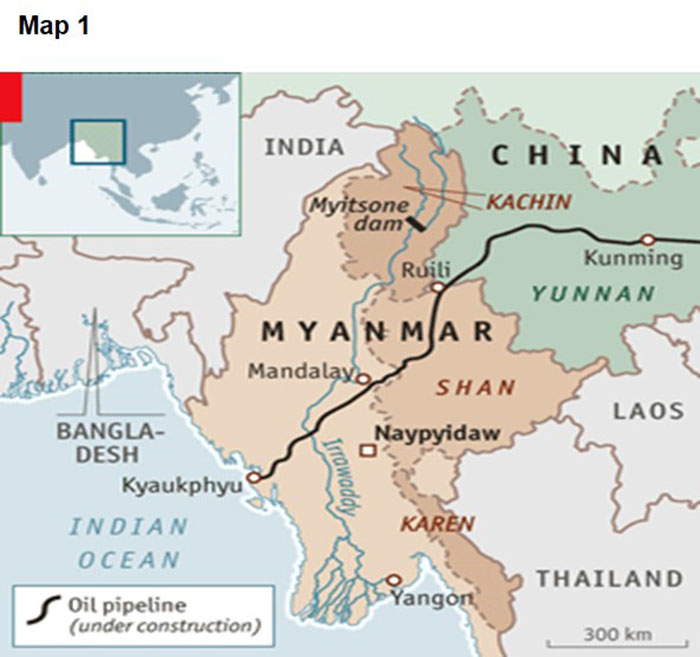 Crude oil will be shipped from the Middle East via the Indian Ocean — instead of through the risk-prone Strait of Hormuz and the Strait of Malacca — before reaching Myanmar and entering China.
The first shipment of one million barrels of oil destined for the pipeline, from the Baku-Tbilisi-Ceyhan terminal in Turkey, offloaded its cargo on 9 April.
The Trans-Myanmar pipeline is also part of President Xi Jinping's 'One Belt, One Road' infrastructure and trade development plan stretching across Asia to Africa and Europe. The mega-project seeks to bolster existing trade routes through Southeast, South and Central Asia, right through to Europe through infrastructure projects. The project is overlaid and complemented by the Maritime Silk Road, which extends into the South China Sea, South Pacific and Indian Ocean. The initiative involves energy pipelines, new ports, and new rail systems. In addition to China, other powers getting involved in Eurasian connectivity include the EU, the US, and Turkey.
For Myanmar, the benefits from the Trans-Myanmar pipeline are probably minimal at this stage. The country may get a small amount of oil and some revenue from oil storage and pipeline tariff fees. But in the long term, Myanmar could benefit hugely from China's investment in its energy infrastructure. This could be a boon for a country that is growing very fast, and sooner rather than later may need more oil refineries.
For China, the new pipeline not only enhances its energy security significantly but also enables it to satisfy the energy needs of the population in Yunnan province, where the pipeline ends and where PetroChina has built an oil refinery with the capacity to process about 261,000 b/d of crude.