With Chelsea and Arsenal set to play against each other in the UEFA Europa League final, fans have turned their attention to Baku – the capital of Azerbaijan. What many don't know, however, is that the decision to host the game in the city is part of a much greater strategic plan, Simon Chadwick and Paul Widdop write.  
Eden Hazard, a Belgian playing for English Premier League club Chelsea, recently scored the deciding penalty in a UEFA Europa League semi-final against Eintracht Frankfurt. The goal secured the team a place in the competition's final against Arsenal, a match that will be staged in Baku – Azerbaijan's capital city.
Most Chelsea and Arsenal fans were left scratching their heads, wondering where Baku actually was, which was quickly followed by questions about how to get there. The latter took on particular resonance when it became apparent that flying directly from Britain to Azerbaijan was rather difficult.
Dismay then ensued when UEFA confirmed that fewer than 13,000 tickets were being allocated to fans of both teams, despite Baku's national stadium having a capacity of around 68,000 seats. One explanation put forward for the low allocation was that Baku's airport is too small to handle a large volume of football fans.
Criticism of UEFA's decision to stage a major international final in the Azerbaijani capital has also arisen. Several groups, including Human Rights Watch and Reporters Without Borders, have long questioned the actions of the government in Baku. Indeed, Azerbaijan is frequently accused of 'sports washing' its tarnished image and reputation.
Yet this is not the first time the country has hosted major sporting events. Three Formula 1 Grands Prix have taken place in the streets of Baku since 2016, as well as the European Games in 2015. Clearly, despite international concerns, Azerbaijan appears keen to assert its position as an event destination rather than cowing to its critics.
Azerbaijan is a country of 10 million people and borders Russia, Georgia, Armenia, and Iran, as well as the Caspian Sea. The country claimed independence from Russia in 1991, and has since gone on to become a major oil and gas producer.
The country has used revenues drawn from its mineral wealth to engage in all manner of projects, from constructing ostentatious buildings to positioning itself as a hub for Eurasian intercultural understanding. This is embodied in the 'Baku Process', an initiative launched in 2008 to promote international understanding and respect of the country. Sports has been and remains part of this mission, hence Baku's imminent hosting of the 2019 Europa League final.
Sport has served other purposes, too, as a means to project soft power and to promote the country as a tourism destination. One example of this has been Azerbaijan's use of the 'Land of Fire' marketing campaign, which has seen its marketing appear in the form of, for example, football shirt sponsorship deals.
Given the growing prominence of Azerbaijan in sports, we undertook a network analysis of its investments and the organisations involved in them as shown below.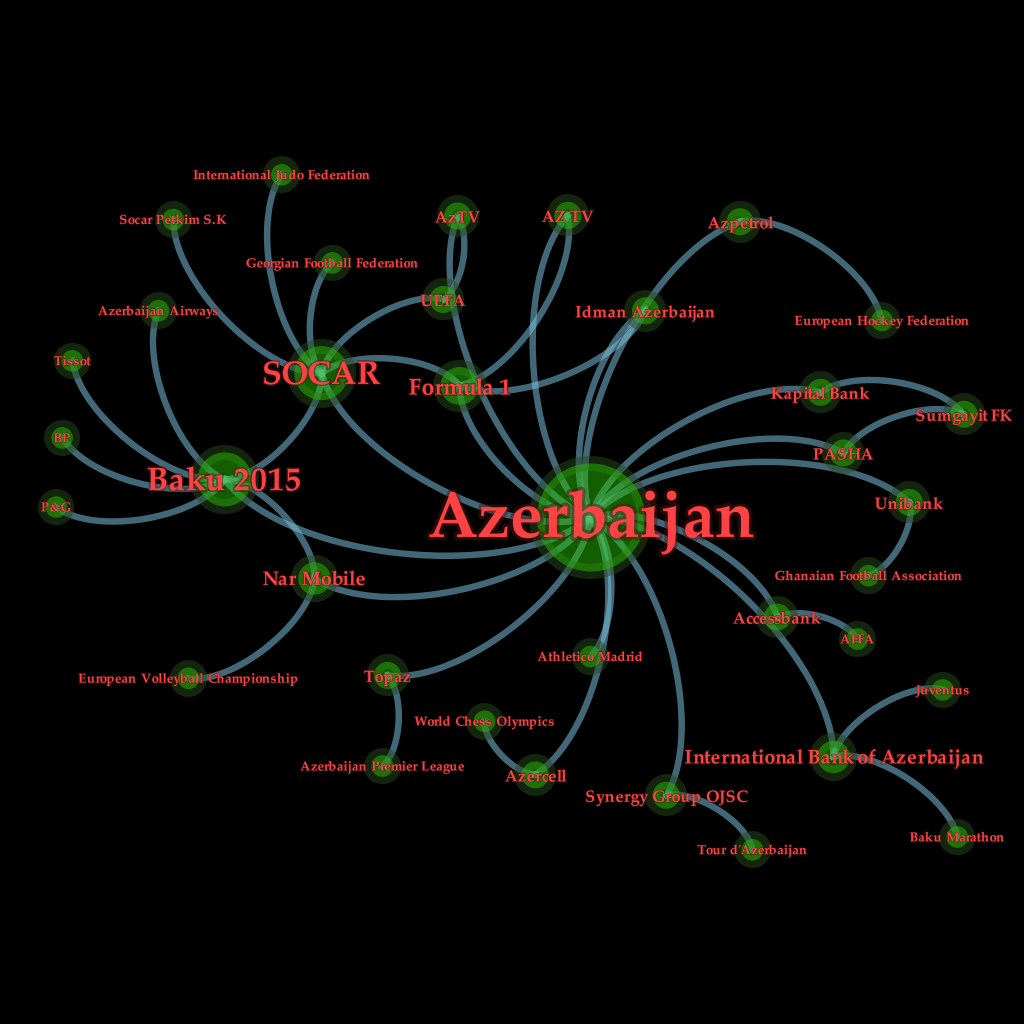 Baku 2015 and Formula 1 are undoubtedly of great significance, reflecting their respective positions as the public face Azerbaijani sporting aspirations – be they a deliberate attempt at subterfuge or an attempt to 'nation brand', raise awareness, and project soft power.
It is, however, the State Oil Company of Azerbaijan Republic (SOCAR) that stands out as being the key node in the country's network of sports interests.
SOCAR is a fully state-owned oil and gas corporation with headquarters in Baku. It produces oil and gas from both onshore and offshore Caspian Sea fields, and maintains a network of pipelines across the country. It also sells petrol under its name in Azerbaijan, Turkey, Georgia, Ukraine, Romania, and Switzerland.
Reports suggest that SOCAR has recently recorded annual pre-tax profits of US $1.5 billion, which perhaps provides an insight into the company's predisposition for spending on sports. For instance, SOCAR has been a leading UEFA and FIFA sponsor, as well as of the Azerbaijani Football Association.
In this respect, SOCAR can be compared with Russia's Gazprom – a dominant company that owns significant rights to extracting mineral resources in its home country. They are vehicles for sustaining national industrial development, generating revenues for other purposes, and serve as bases for pursuing geopolitical, diplomatic, and soft power goals.
In other words, they are entities for enacting state policy in which the impending Europa League final plays a part.
There are also parallels with China's Clean Energy Finance Corporation (CEFC) in the Czech Republic, which used ownership of Slavia Prague to secure its energy interests in Central and Eastern Europe. At one point, there were rumours that CEFC was seeking to acquire a Romanian football club, as a means to build a retail petrol business like SOCAR and to access mineral reserves in the Caspian Sea. Politically, CEFC is thought to have 'over-stretched' itself and was taken over by Sinobo, a company with ambiguous links to the Chinese government.
Another commonality shared by Azerbaijan, SOCAR, and these other examples is its relations with Eurasia. Eurasia is a landmass that stretches from Japan and the Philippines, through China, and across to France and beyond, as far as Iceland. Covering approximately 55 million square kilometres – almost 40 per cent of the world's land – the region is home to more than 5 billion people – 70 per cent of the world's population.
As a territory and as a business market, it's an epic region for states to use sports to build networks and play energy politics.
For most fans, Baku will seem like an obscure destination a long way away. Yet, once they do travel the distance to attend a major football tournament, the event will attest to Azerbaijan's strategic intent and growing influence. And with the country having previously made an unsuccessful bid to host the Olympic Games, this is unlikely to be the last visit to Azerbaijan that some will make.
This piece is published in partnership with the China Soccer Observatory at the University of Nottingham.