China is enacting reforms to normalise the importation of goods for domestic consumption. Yet any opening of the Chinese market will be selective and will serve state industrial policy, Tristan Kenderdine writes.
China's 2016 e-commerce 13th Five-Year Plan was a signal to the domestic economy that was largely ignored by international firms. It would, however, cause complications for companies in developed economies that have been profiting from grey market cross-border trade with China.
The business model for such firms was simply to let overseas Chinese buy products off the shelf in Europe, Australia, Japan, Korea and the US and ship the goods back to China using personal networks loosely organised through WeChat. As it becomes a net-importer and consumer of higher value-added goods, China is moving to regulate this trade.
China's second-wave trade and investment regime is developing a network of 'free trade zones' with an explicit plan to attract inward manufactures for domestic consumption. Although they may be 'free trade zones' by name, they are more accurately described as 'import-processing zones', and they represent an exchange between foreign manufactured goods and access to the world's largest consumer market, a reversal of the export-processing zones of the 1980s.
China's import-processing zones are the latest phase of a spatial trade game which started with the unequal ports treaties with the European industrialising powers.
The new free-trade zone plans also clearly intersect with wider domestic reforms for national e-commerce distribution systems, global e-trade institutional infrastructure, and the development of logistics firms capable of coping with the China-scale of cross-border point-to-point package delivery.
January's foreign trade development 13th Five-Year Plan sought to visualise the transition to an import-driven economy. It plans 'five optimisations' for the Chinese economy: international market structure, domestic market structure, commodities structure, building internationally competitive firms, and trade innovation. It is worth noting that 'trade innovation' is mostly about drawing global commerce towards an international Chinese investment system, without truly opening China's consumer or capital markets.
In April, the locations of the third batch of import-processing free trade zone pilots were confirmed: Liaoning, Zhejiang, Henan, Hubei, Chongqing, Sichuan, and Shaanxi. These seven add to the initial pilot at Shanghai and the later addition of Guangdong, Tianjin and Fujian.
Trade giants Hangzhou and Qingdao will be the first cities to enact new regulations on cross-border e-commerce, expected to come into effect on 1 January 2018 with most items treated as duty-free personal goods. Hangzhou's cross-border e-commerce pilot is set to become the world's first 'electronic world trade platform' experimental zone — this new e-commerce infrastructure will affect every part of the global supply chain.
The open market framing of these zones belies wider state industrial policy. As shown in the chart below, co-located with the zones are 18 'Torch' industrial research and development parks. (see chart).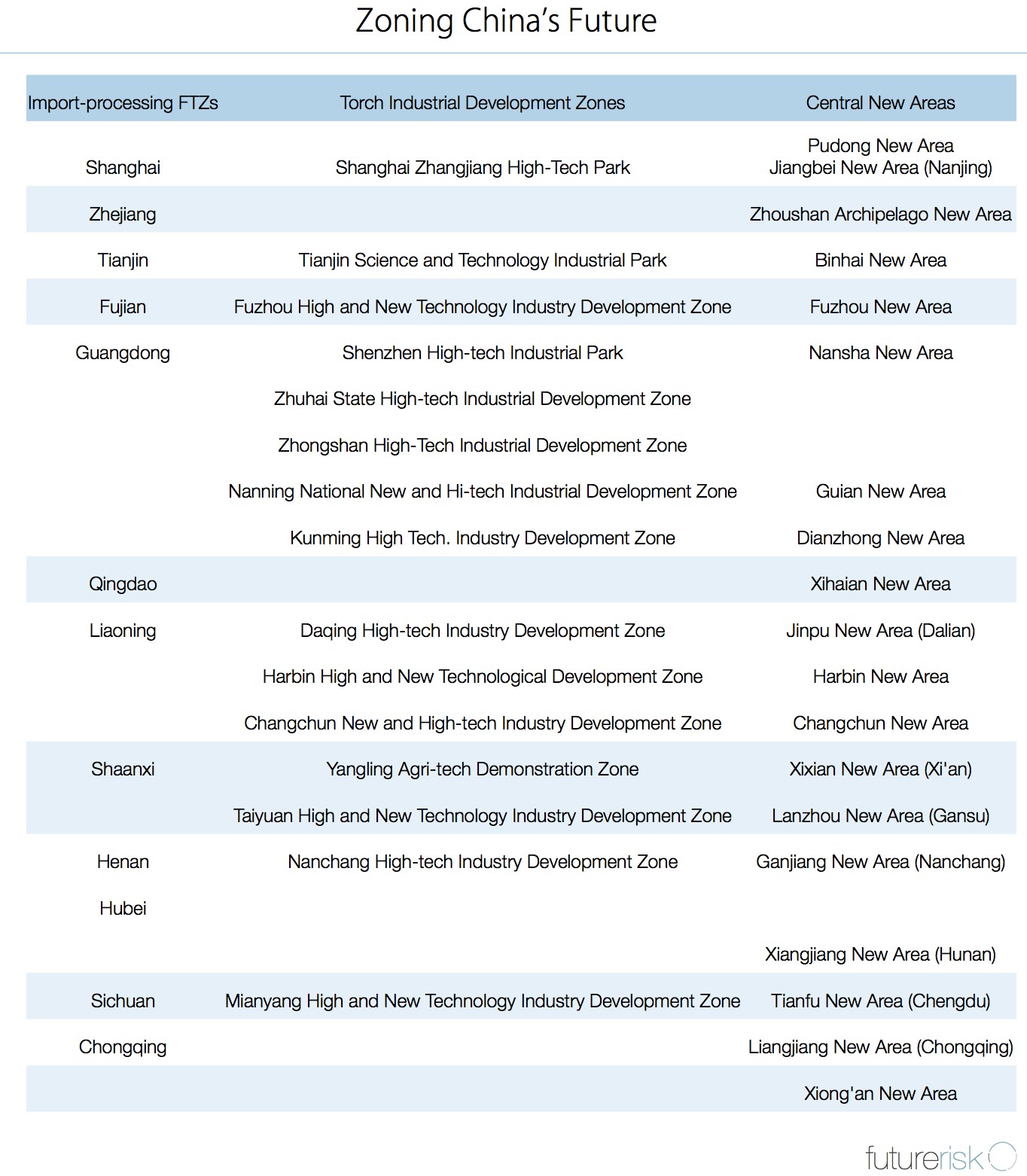 Combining the locations of the import-processing zones, the industrial research Torch zones, and the government-administered New Areas paints a clear pattern of a state industrial policy. The free trade zones are far from a test-run for an eventual nationwide liberal trade environment — instead, each zone is to intersect with specific state industrial policy goals.
The import-processing zones all have explicit policy goals. For example, Liaoning aims to reform advanced manufacturing SOEs, while Zhejiang's role will be to establish international maritime logistics bases. Henan is slated to improve land and river logistics channels, with Hubei responsible for upgrading the Yangtze River Delta Economic Zone. Chongqing and Sichuan provide a nexus for integrating inland Belt and Road projects with the coastal Yangtze River Delta Economic Zone. Shaanxi is to explore modern agriculture and expand cooperation with countries along the Silk Road Economic Belt and 21st-century Maritime Silk Road.
China's Ministry of Commerce recently transmitted a revised version of the Foreign investment industries guidance catalogue to the public, after drafting by the Central Party Leading Group on Deepening Reform. The catalogue relaxes imports on industries in which China already has a technological advantage and where it hopes to attract cheaper inputs.
While ostensibly relaxing requirements for foreign firms and promising domestic and foreign firms equal representation under the Made in China 2025 industrial policy, in reality the government is hoping to push foreign investment away from more developed coastal consumer markets and towards central and western regions through the Advantageous industries for foreign direct investment in central and western regions policy document.
China importing more from the world and becoming a net importer is a good thing. Yet there are serious strings behind these innovations – what may look like an opening of the Chinese market will most certainly serve the state first.