From a deadly pandemic to disaster resilience, the Pacific region has shown it has the ability to respond well amidst tough circumstances, Ben Bohane writes.
Disembarking the Air Vanuatu plane in Port Vila in February this year, I lined up with other passengers in a makeshift tent near the tarmac as local health officials screened us for a new virus that had begun to sweep the world. Two weeks later Vanuatu had closed its borders and, joining other Pacific nations, was moving to an emergency response.
I had just joined the Australia Pacific Security College (PSC) and would spend most of the year from my Vanuatu sanctuary, which had no COVID-19 until a single quarantine case in November. I began working online remotely – like so many of us.
Nine months later, I landed at a strange and empty Brisbane airport, escorted by people in hazmat suits and police guiding me and other passengers to quarantine hotels. My year has been book-ended by these flights and a changed world.
PSC pivoted quickly to adapt to the new circumstances in order to bring its Pacific expertise and network to focus on the biggest health challenge of our lifetime. The College quickly initiated the idea of a weekly COVID-19 update covering all the Pacific islands so we could track the virus and policy responses, including a popular, data-rich tracking map of the region. The weekly COVID-19 Trendlines tracking continues — though for 2021 if will be fortnightly, rather than a weekly, update.
The College has been able to analyse the important trends, track and report on the many measures leveraged to build Pacific resilience. This includes the Pacific Humanitarian Pathway led by the Pacific Islands Forum with logistical support from Australia and New Zealand, and work with governments, regional agencies and NGOs to enhance national security.
Cooperation and quick mobilisation between Australia, New Zealand and Pacific island governments has ensured that the Pacific has worked together well to control the virus. It has responded better than almost any other region of the world, closing borders early and developing protocols to ensure the safe and timely delivery of personal protection equipment (PPE), testing equipment and in the case of Papua New Guinea (PNG), an AUSMAT team to help stabilise the situation there. The next challenge will be the roll out of vaccines, something Pacific governments are being urged to prepare for now.
While the year has been dominated by COVID-19 and its ensuing disruption to normal life, it is far from the only challenge facing the Pacific community. Cyclone Harold barrelled through Fiji and Vanuatu in March causing extensive damage and forcing several island states to manage the disaster largely on their own. The response was therefore homegrown and we learnt many things – including that local countries were very capable in making their own decisions, and using local food and materials in humanitarian response instead of overseas supplies.
There was also some innovation in aid delivery – such as some governments and NGOs like Oxfam trailing direct cash transfers to affected communities. It is likely that having made informed decisions without the well-meaning clutter or interference that often comes with large international humanitarian responses, Pacific nations will increasingly value their sovereign decision-making and local responses to disaster management in future.
As 2020 comes to a close, the long-term effects of climate change and local adaptation remain the most important security challenge for our region. Pacific leaders continue to highlight their concerns at international fora, including the recent UN gathering to promote 'high ambition leadership' in the world.
And let's not forget the 'other' health crisis besides COVID-19 – diabetes and other non-communicable diseases (NCDs), which is a long term challenge facing the health and well-being of Pacific island communities. The nexus between health and food security is also regularly flagged by island leaders as a policy priority.
As the Pacific region faces up to these and other challenges, PSC will be there to assist with advice, training and brokering a safe space for discussions on a range of security challenges. The College is working to include more women in national security policy-making and is assisting Pacific nations in areas such as developing national security plans and strategic analysis courses.
In the year ahead we can look forward to more education and training courses, more blogs on Policy Forum and our Pacific Wayfinder podcasts, and the launch of our new website in February. In March we will also be premiering a College-produced documentary film called Pacific Lockdown, which traces the Pacific's response to COVID-19 in its first year through the eyes of video diarists spread across the region.
As we look back on a year like no other, we can take some measure of comfort in the way Pacific island nations moved quickly and boldly to protect their communities, build national resilience in the face of multiple challenges and better manage their regional relationships. Developing a 'whole-of-nation' approach has become a cliché but remains true – from COVID-19, to climate, to geopolitics, our Pacific communities need to better coordinate across all government ministries and civil society to face the challenges ahead.
Australia and New Zealand have shown world-class leadership in their ability to contain the virus at home so they are well placed to assist the Pacific in the next policy test – rolling out a region-wide vaccine program. This will be important in helping island nations to rebuild their economies, especially as so many have been dependent on tourism and taken a major hit as borders remain closed.
T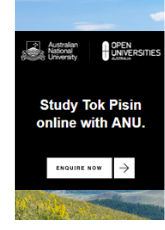 ravel 'bubbles' might eventuate soon so that the Pacific can get back to some kind of (relative) normality in ways that will be the envy of other parts of the world still facing a closed and difficult year ahead. Many nations are also reflecting on partnerships that will allow them to diversify and strengthen their economies for the future.
There is much to be thankful for in our region and PSC will continue to provide quality analysis and training to assist our Pacific family to stay as safe and secure as possible in these challenging times. Merry Christmas and best wishes from all of us at PSC for the year ahead.