Putting people at the centre of disaster response preparedness will equip the 'real' first responders, Caroline Brassard writes.
On a worldwide scale, disasters such as earthquakes, floods, and droughts kill fewer people than a decade ago, but cost increasingly more from a social and economic perspective. Although it is common sense that the first responders to disasters are inevitably the survivors, capacity building efforts tend to target government officials and local leaders without sufficient attention to 'ordinary' citizens. Understanding the challenge this poses and looking at how to engage in a much broader capacity building perspective has the potential to mitigate these costs.
The response to disaster by local communities and their resilience can be understood as the degree to which communities are able to learn about and adapt to a difficult situation and deal with future uncertainties. Knowing what exacerbates disaster risk is a starting point. The World Bank emphasises three causes: vulnerability due to poverty and environmental degradation; exposure to disaster risk due to poorly planned development; and natural hazards due to climate change.
Despite decades of lesson learning, the list of lessons not learned following disasters is still too long. These lessons may range from communication, leadership and coordination, logistics and planning, to resource management, health, and education. From a local community perspective, those challenges fall in three areas: missing data, missing guidelines and missing the boat.
First, the missing data is about knowing where to find information and whether or not it exists in the first place. Since vulnerability is one of the major causes of disaster risk, to what extent does 'risk mapping' include counting the vulnerable and their differentiated needs? For example, where are the records of the location of the elderly and physically disabled who would require assistance in case of disasters?
Access to information can be quite politicised and bureaucratic, in addition to often being monopolised by central authorities. Moreover, data may easily be destroyed after a disaster, so there is a need to find ways to store data in different locations and under different forms. A powerful example of this was scientists' inability to adequately communicate the term 'storm surge' to the local population following Typhoon Hayan in the Philippines. The co-production of knowledge is crucial not just to fill in the missing data gap but also to know how to share and communicate it.
The missing guidelines relate to scenario planning and learning how to expect the unexpected. For example the inability to handle spontaneous volunteers, or people who refuse to be evacuated from their homes because they do not want to leave their pets behind.
Such lessons may be learned from rehearsing at the local level – not just as part of military exercises – and identifying missing guidelines or standard operating procedures. Are there bottlenecks in the regulatory environment in schools or in businesses should there be a sudden request to evacuate from a city two days prior to a large cyclone? In addition to creating awareness, such exercises and scenario planning can also help bring together local planners with experts in trauma in ways that facilitate the communication of complex messages.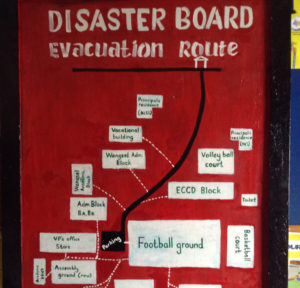 Image provided by author.

Missing the boat is about the lack of synergy. Although partnership with Municipal and Provincial Government Units and the formation and training of Community Disaster Action Teams – as has happened in countries including the US, Vietnam, Nepal and the Philippines – are part of the key steps towards increasing community resilience, there are still problems caused by a lack of synergy and uncoordinated efforts.
One solution to this is to build on existing networks such as chambers of commerce, schools systems, faith-based networks, and community groups. Another is to identify and empower 'champions' that can convey the key messages in more charismatic ways than strategic public relations communication plans. A final example is to identify, compile and build on indigenous knowledge of previous disasters that carries decades if not centuries of experience.
The motivation to learn from disasters and commit to improving our capacity to address disaster risk varies according to our sense of urgency, the scale of impact of previous disasters and our sense of responsibility as citizens. But there are many more reasons why we don't learn – aside from our priorities, values and resources – and this relates to how we teach these lessons, and who we teach them to. Addressing disaster risk through a people-centered approach requires a broader capacity building perspective that empowers the community level 'first responders'.