Whether it's trying to sport-wash its sullied reputation or put sports participation at the centre of its country vision, Saudi Arabia is increasing investment and influence, Simon Chadwick and Paul Widdop write.
This year there have been numerous rumours that Saudi Arabia is behind FIFA plans to launch a new Club World Cup (CWC). These rumours have been fuelled by several trips made by FIFA president Gianni Infantino to meet Crown Prince Mohammad Bin Salman, the most high profile of which saw them sitting next to each other at the opening game of this summer's World Cup in Russia.
At the end of October, following a FIFA Council meeting in Rwanda, Infantino denied any sovereign involvement in his CWC plans, though a final decision about the new competition has been deferred until next March. In the meantime, other sporting rumours will no doubt abound, as recent 'Saudi to buy Manchester United' reports have demonstrated.
Regardless of the rumour mill, top-class football has become a feature of Saudi Arabia, with Brazil and Argentina signing a deal to play matches in Riyadh. In addition, the country is keen to position itself as a home for combat sports, with both World Wrestling Entertainment and the World Boxing Super Series staging bouts there. Also, before the end of the year, motorsport's Formula E will stage a race in the country.
It is also worth remembering that earlier this year, women were allowed to attend Saudi Arabian football matches for the first time, whilst in the middle of the desert (forty minutes drive from Riyadh) a new sports city – Qiddiya – is being built.
Critics have suggested the kingdom is using sport as an instrument for washing its reputation and deflecting attention away from concerns about, for example, its treatment of dissidents (the killing of Jamal Khashoggi being a case in point). Others point to Saudi Arabia's comparative sporting lethargy and a need to compete with its neighbours, Qatar and the United Arab Emirates – both of which have heavily invested in sport over the last decade or so.
Saudi Arabia's increased focus on sport began two years ago and reflects a similar response to challenges faced by countries elsewhere in the Gulf. The kingdom is overly dependent upon finite carbon fuel deposits for its economic prosperity, a weakness that the government in Riyadh is finally addressing. As such, Saudi Arabia has formulated a country vision, of which sport is part, and authorities have embarked upon an investment program aimed at transforming the country.
In its 2030 country vision, Saudi Arabia states that it is determined "to become a global investment powerhouse… [to] hold strong investment capabilities, to stimulate our economy and [to] diversify our revenues." Sport is part of this vision, and in 2016, the government acknowledged that opportunities for playing sports in the country have historically been limited, but that sport is an important part of active, healthy lifestyles amongst its population.
Indeed, the country's vision for sport states that Saudi Arabia is aiming to "encourage widespread and regular participation in sports and athletic activities, working in partnership with the private sector to establish additional dedicated facilities and programmes. We aspire to excel in sports and be among the leaders in selected sports regionally and globally."
Clearly Saudi Arabia has already commenced its program of sports investments, which are not only economically and industrially oriented, but also socio-cultural, political, and health-related (it is worth noting here that Saudi Arabia has chronic problems with obesity, diabetes, high blood pressure, and high cholesterol, which sport can help address). Indeed, to this end, we understand that Saudi Arabia has recently contracted with a leading international consultancy to formulate its sports strategy.
It is within this context that we have undertaken an initial network analysis of Saudi Arabia's current investments in sport, which is shown in the visualisation below.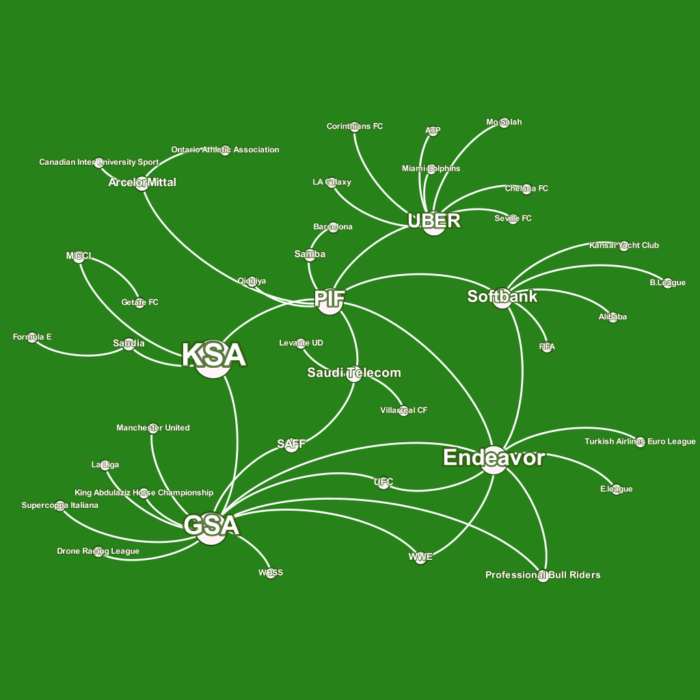 The two most prominent vehicles through which Saudi Arabia is investing in sport are the Public Investment Fund (PIF) and the General Sports Authority (GSA). The former is a sovereign wealth fund, the latter a government body for sports. Significantly, both of these entities seem to be predominantly engaged in sponsorship and endorsement deals.
However, there are also other highlights. The promotion of Saudi Arabia as an event destination is particularly apparent, especially for combat sports. Given the country's strongly male orientation, we speculate that the likes of boxing, wrestling and mixed martial arts are consistent with Saudi Arabia's prevailing gender narrative.
Furthermore, with the constituency of such sports no longer dominated by the United States, there may be opportunities to utilise them as a means through which to position Saudi Arabia as an important global combat sports hub.
We particularly note the PIF's $400 million acquisition of a stake in American company Endeavor (although the latter is reported to be exploring the possibility of backing out of the deal in the wake of the death of Khashoggi). Endeavor is an American business focused on talent and event management. Amongst other things, it stages Ultimate Fight Championship contests, a sport that is consistent with Saudi Arabia's apparent pugilistic predispositions.
Also noteworthy in the visualisation are links to other forms of cultural expression, such as cinema, which the country perceives as being an important part of its supposed modernisation program.
Two further organisations worthy of immediate attention in Saudi Arabia's network of sports investments are SoftBank and Uber. The former is a Japanese multinational holding conglomerate that owns stakes in all manner of businesses (such as 30 per cent of China's Alibaba). More significantly in terms of Saudi Arabia, SoftBank has close relations with several Saudi Arabian sports investment projects. Most notably, this purportedly includes providing financial backing for FIFA's proposed newly reconfigured CWC.
Uber is an American is a peer-to-peer ridesharing, taxicab, food delivery, bicycle-sharing, and transportation network company. In 2016, the PIF invested US $3.5 billion into it. In recent years, Uber's involvement in sport has largely involved signing sponsorship deals with the likes of Liverpool's Egyptian international Mo Salah.
In comparison with previous networks we have visualised for Policy Forum, Saudi Arabia's network appears to be smaller, under-developed and less strategic than international rivals such as Russia and China. However, with the country's commitment to investing in sport, it seems highly likely that the nature of the network presented here will change significantly as Saudi Arabia pursues its 2030 country vision.