Qatar, Russia, and even Azerbaijan are using high-profile sports sponsorships to build their national profiles and change perceptions, Simon Chadwick and Paul Widdop write.
Over the last decade, Qatar has become synonymous with sport, albeit at times contentiously. The small Gulf nation's rapid ascendancy to a position of influence in world sport has not been accidental. In its 2030 National Vision and accompanying development strategy, sport is explicitly mentioned as a vehicle through which Qatar can achieve a multiplicity of goals.
The country is one of the world's biggest oil and gas producers, which has enabled it to accumulate considerable currency reserves. However, Qatar's economy is overly dependent upon carbon fuel deposits and associated revenues, a fact that has recently been brought into sharp focus by globally stagnant oil prices. Furthermore, at some point in the future, its oil and gas supplies will eventually run out.
Doha's strategic decision-makers have therefore been thinking ahead, and see an investment in sport as being part of Qatar's post-oil and gas future. Specifically, sport is viewed as a means through which to generate both economic and socio-cultural benefits. Sport can be a source of jobs and export earnings, and address issues such as health, well-being and social cohesion among the country's disparate domestic population.
As a relatively new state (Qatar only gained independence from Britain in 1971), and with a population of less than three million, the country also sees sport as a way of building profile and presence. It provides Qatar with a unique proposition, a positioning statement and a way of engaging key target audiences around the world. Hence, Brand Qatar has quickly propelled itself into the global consciousness through, for example, its successful bid to host football's 2022 World Cup.
Closely connected with the country's sense of nation branding, sport is openly acknowledged by its government as being an important instrument of soft power in facilitating Qatar's development.
While Qatar's event hosting strategy has most obviously embodied the notion of soft power, even though it has sometimes backfired, rather less attention has been paid to other elements of the country's soft power strategy in sport. Doha has been building up an extensive government portfolio of investment assets and business deals, some of which have been very high profile. These include, for instance, the acquisition of French football club Paris Saint-Germain and the subsequent acquisition of Brazilian player Neymar for a world record transfer fee.
In addition, Qatari state entities have been engaged in signing a large number of sponsorship contracts with sports properties across the world. Among the highest profile deals have been those between Qatar Airways and Spanish football club FC Barcelona, and with FIFA (world football's governing body).
To establish the nature and extent of Qatar's sponsorship portfolio, we ran a network analysis (see below) highlighting key Qatari sports sponsors and the properties with which they have an association.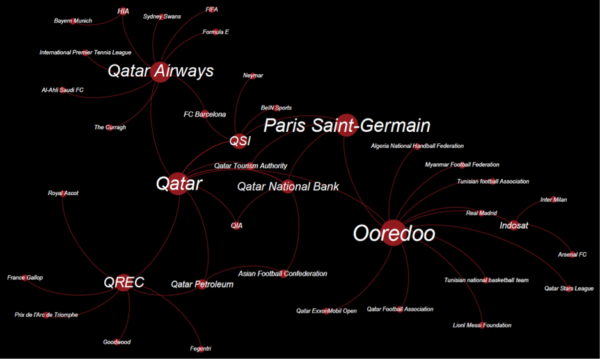 The red nodes in this network visualisation represent the volume of sponsorship relations in which an entity is engaged. As such, we observe that Qatar Airways, Qatar National Bank, Ooredoo (a state-owned telecommunications company) and the Qatar Racing and Equine Club (QREC) are especially prominent in the network.
Qatar Airways (QA) has become something of an emblem for the country's ambitions, especially as the airline has won numerous international awards for the standards of service it provides. Once more, QA's success has been the result of a deliberate strategy by the Qatari state designed to attract not only airline passenger numbers, but also to evoke favourable impressions of the country across the world.
This strategy has caused problems, not least because of claims from the United States that QA's receipt of significant state subsidies is anti-competitive and against the interest of American carriers. Some observers even believe that the US government's now-lifted flight laptop ban may in part have been introduced as a measure to undermine the likes of QA.
As such, we infer that there is an industrial and commercial element to QA's sponsorship programs. Its associations with the likes of German football club Bayern Munich are consistent with conventional sports sponsorship programs that emphasise the recognition and awareness benefits attributable to sponsorship programs. In the same way, Ooredoo's deals with a variety of partners appear to be consistent with this too.
However, we conclude that such sponsorships are also an exercise in soft power projection. That is, by being associated with high profile, successful sports properties, QA and other Qatari entities are seeking to attract people both to the properties in question and to the country, and wish to induce target audiences to follow what the country is doing. In this regard, QREC's sponsorship portfolio is particularly interesting as it accentuates on a global basis both the affection Qatari people have for horses and the central role the animal plays in Qatari culture.
Drawing from this preliminary analysis of Qatari-related sponsorships, we therefore suggest that a new form of sponsorship has been created – soft power sponsorships – which we define as:
An outward contractual relationship between a state-owned entity and a property aimed at promoting the attractiveness of a country, its culture and its policies, with the intention of altering the attitudes and behaviours of key target audiences pertaining to the entity and/or the country with which it is associated.
It should be noted, however, that Qatar is not alone in its engagement of soft power sponsorships. Russia's Gazprom (a state-owned energy company) and Aeroflot (a state-owned airline) sponsor properties such as the European Champions League football tournament and English Premier League football club Manchester United respectively.
Meanwhile, Azerbaijan positioned itself as the 'Land of Fire' when it sponsored Spanish football club Atletico Madrid's shirts to promote its hosting of the inaugural European Games, its staging of the Eurovision Song Contest, and its bid to host the Olympic Games.
Soft power sponsorships are changing the industrial and commercial landscape, as well as placing sport centre-stage of the image-projection strategies being adopted by, notably, Asian countries. In years to come, it will be interesting to assess the extent to which they have altered our views of Qatar, Azerbaijan and other countries around the world.
This piece is published in partnership with the China Soccer Observatory at the China Policy Institute, University of Nottingham.