From joint naval operations in the Arabian Sea to Indian aircraft in Darwin, Canberra and New Delhi have no shortage of options for meaningful defence cooperation, David Brewster writes.
Earlier this month, the four navy chiefs of Australia, India, Japan and the United States stood shoulder to shoulder on a stage in New Delhi as apparent proof of a new era of cooperation among them.
In the face of seemingly unending Chinese assertiveness across the Indo-Pacific, the Quadrilateral 2.0 has apparently now been born. India's caution about a revived 'Quad' and concerns that it may unnecessarily provoke Beijing appear to have been overcome by China's provocations in the Himalayas last year – provocations which will likely be revived in coming months.
But aside from the powerful symbolism of the four navy chiefs sharing the stage, it was the speech of Australia's Chief of Navy, Admiral Tim Barrett, that was the most interesting.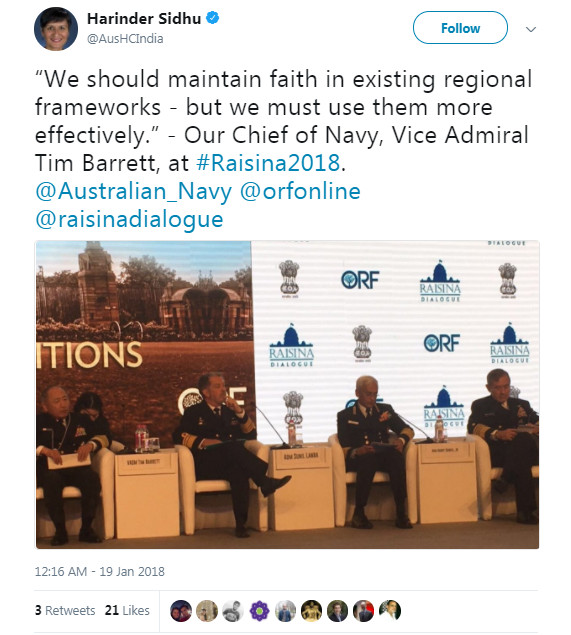 Barrett's comments reflected Australian-style pragmatism and, perhaps, an element of impatience for achieving more substantial outcomes. Indeed, Australia and India have spent much of the last decade talking to each other to help bring their strategic perspectives into closer alignment. That was certainly an essential step, but we should not mistake talking for an outcome.
Amidst some of the more predictable rhetoric about cooperation, it was Barrett who argued that we now have a "plethora of fora", an "abundance of arrangements" and a "multitude of exercises that are relatively simple in design and execution."
According to Barrett, "an abundance of these institutions, organisations, and arrangements, poorly managed or not aligned, actually produces a dilution of practical outcomes and is difficult for us to achieve meaningful outcomes for very pragmatic reasons. It may be as simple as asking the same nations to send the same ships to so many exercises that they run out of fuel."
As the leader of a middle power navy with an extremely wide area of responsibilities, Barrett is acutely aware of using limited resources to maximum effect. Although he was not just talking about Australia and India, his comments certainly hit the nail on the head.
The Australia-India defence relationship is long on talk (and, increasingly, also goodwill), but still short on substance. True, there have been two iterations of Exercise Australia-India (AUSINDEX) naval exercises with more to come, but they still need much greater substance. The Indian Navy is cautious about using precious ship time and fuel in making the long journey to Australia.
For its part, the Indian Air Force is also due to participate for the first time this year in Exercise Pitch Black, Australia's premiere multilateral air exercise. But this is really just the start of substantive engagement between the two air forces that are increasingly operating common platforms.
We need to find new ways for the two defence forces to work together. Given the fast pace of developments across the Indo-Pacific, including a very rapidly growing Chinese military presence in the Indian Ocean, there is a degree of urgency in giving substance to the defence relationship. This may require moving beyond some comfortable boxes. We particularly need to focus on cooperation that can achieve real outcomes in ways that do not unnecessarily stretch our defence resources even further.
One unexplored opportunity for naval cooperation is in the western Indian Ocean.
The Royal Australian Navy has been almost permanently deployed to the Persian Gulf/Arabian Sea since around 1990, taking part in maritime interceptions and anti-piracy and anti-smuggling operations.
This is a major commitment to regional security and uses a considerable amount of the navy's scarce resources. The Australians usually work as part of the US-sponsored multi-national Combined Military Forces (CMF), a coalition of more than 20 navies. But sometimes Australian vessels have been detached from the CMF to operate with other groupings such as NATO.
The Indian Navy has also operated in the same waters since 2008, focusing on its own anti-piracy operations which are separate from the CMF. The Indians have long had an aversion to operating in multilateral forces except under the clear banner of the United Nations. They also would not feel able to operate alongside the Pakistan Navy, which is a prominent participant in the CMF. This aversion is not likely to change anytime soon.
But despite operating side by side for almost a decade the Australian and Indian Navies have never operated together. This makes little sense.
There is no reason why Australian vessels could not be detached from the CMF for a period to work alongside their Indian colleagues in anti-piracy or anti-smuggling operations. This would allow them to share a wealth of experience in addressing real security challenges. There may even be opportunities to develop some model of shared command that satisfies the various sensibilities involved.
The picture of Australian and Indian warships operating and visiting ports side by side would not only be a powerful symbol, but would provide them with 'quality time' in re-learning how to work together.
Another opportunity for practical cooperation is in building maritime domain awareness (MDA) in the Indian Ocean. There is now a widespread recognition that enhanced maritime domain awareness is an essential building block in improved maritime security and that this can only be achieved through cooperation.
One major gap in India's MDA capabilities is its ability to monitor the so-called maritime 'choke points' in the eastern Indian Ocean. Indian surveillance aircraft can easily monitor the Malacca Strait using bases in the Andaman and Nicobar Islands, but have a lot more difficulty monitoring the other key passages through the Indonesian archipelago.
Australia is a lot better placed geographically to monitor those straits, using airfields in its island territories such as Cocos Islands or on the mainland such as Darwin. The US Air Force has long used Cocos and Darwin, and Japan may soon be invited to use Darwin for exercises.
There is no reason why India could not also be offered use of facilities in Darwin – even if on an occasional basis.
The use of Darwin by Indian P-8 maritime patrol aircraft – the same type of maritime surveillance aircraft used by the Australian air force – would be a powerful symbol of the Australia-India partnership. Just as importantly, it would provide many practical opportunities for our air forces to work together on the ground and in the air.
In New Delhi, Admiral Barrett argued that in order to further build alignment between the four Quad partners, we need to engage in activities where there is "a meaningful outcome and a sense of purpose."
Fortunately for the Australia-India defence relationship, there is no shortage of ways to work together for a common purpose. Now is the time for leaders on both sides of the Indian Ocean to back up their words with action.