Thailand has a significant challenge on its hands re-establishing tourism confidence after the recent bombings, David Beirman writes.
By the end of 2015 Thailand was firmly established as the most popular international tourist destination in Southeast Asia. In 2015 a record number of just under 30 million international tourists visited the country.
These tourists directly contributed some US$45 billion to Thailand's economy — around 8 per cent of Thailand's GDP. Indirectly that number rises to US$88 billion or 18 per cent of GDP. By any economic or statistical measure, tourism is extremely important to Thailand.
However, Thailand's recent history has demonstrated that tourism's contribution to Thailand's wealth has a fragile quality. Although there has been significant overall growth in tourism arrivals since 2001, periods of growth have been punctuated by a number of year-on-year declines due to fears of pandemics (SARS in 2003) natural disasters  (the 2004 Tsunami) political and civil unrest  (the 2010 Riots) and the military coup of 2014. (Click here to see chart).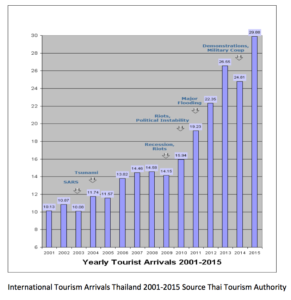 Since the 2014 military coup, Thailand had been relatively free of politically-motivated violence, apart from the attack against the Erawan Shrine in Bangkok in August 2015. Although there were a significant number of foreign casualties in that attack, it was not regarded as an attack that deliberately targeted tourists.
Fast forward almost a year, and Thailand has once again been struck by blasts.
The bomb and arson attacks of 11 and 12 August 2016 targeted key tourism centres in Southern Thailand including Hua Hin, a resort city popular with wealthy Thais and many international tourists. Bombs also hit Phuket, one of Thailand's leading tourist centres, and Surat Thani, which is a popular gateway town for tourists heading to Kho Sanui.
The bombings killed four people and wounded 35, 10 of whom were tourists. Thailand's Prime Minister Prayuth Chan-ocha called for calm and ordered security to be upgraded in areas popular with tourists. The Thai Tourism Authority (TAT) held a press conference on 12 August in which TAT Governor Mr Yuthasak Supasorn announced that the organisation was establishing a Situation Monitoring Centre – intended to coordinate and disseminate information about safety measures for tourists through TAT's international network of offices – and a 'We Care' campaign to ensure the safety of tourists in Thailand.
TAT has a long record of immediate responses to crisis events affecting tourists in Thailand. It closely monitored events during the 2010 Red Shirt protests, providing tourists and intending visitors with information on safe and unsafe areas within Bangkok. During the Thai floods of late 2011 TAT provided up-to-date information of the status of transport and accommodation infrastructure in Thailand. The announcement of the Situation Monitoring Centre immediately following the bombings was symptomatic of TAT's anxiety. It wanted to be seen to be in control of the situation as a confidence boosting measure directed at prospective tourists and Thailand's tourism industry stakeholders.
There has already been significant coordination in response to the attacks between TAT and the Pacific Asia Travel Association (PATA – the Asia-Pacific's largest transnational tourism association), which is also based in Bangkok. PATA and TAT have worked together in talking up tourism safety in Thailand since the bombing.
Thailand's tourism industry and TAT are well aware of the high stakes involved in maintaining the good reputation of Thailand as a safe and welcoming destination for tourists from all over the world. Acts of terrorism elsewhere in the world over the past year have resulted in significant tourism slumps in France, Belgium, Tunisia and Turkey.
One of the immediate concerns for Thailand is the difficulty in establishing who was responsible for the 11-12 August attacks. To date, no organisation has claimed responsibility for the bombing attacks. Although Thai authorities suspect the bombings were conducted either by political opponents of the current military regime or Muslim separatists based in Thailand's southern provinces bordering Malaysia, there is no compelling evidence to date which points to either of these groups.
For opponents of Thailand's current military regime, tourism is the perfect soft target. Tourists are easy to identify and many are associated with hedonistic lifestyles that more conservative Thais resent. Targeting tourists through acts of terrorism can result in rapid loss of business to tourism-related enterprises. Leisure tourists normally predisposed to visit Thailand will vote with their feet and instead choose to travel elsewhere in Southeast Asia.
Thailand's ability to mount a credible counter-terrorism campaign in response to the bombings will depend on whether the Thai security forces can identify and neutralise those responsible for the attacks. Promising increased security measures to assuage tourist concerns over terrorism is meaningless until the identity of the perpetrators can be established. It is worth noting that a year after the Erawan Shrine bombing, authorities are yet to convincingly explain and identify who was behind the attack.
The August attacks raise one very significant challenge for the Thai Tourism Authority. While TAT has a very good record in responding to negative events and tourism crises, it has consistently avoided adopting a proactive approach to tourism risk management. PATA and Thai-based tourism risk management experts including Dr Bert Van Walbeek (recently awarded an honorary doctorate by the University of West London for his service to tourism risk and crisis management) have frequently called on TAT to provide pre-arrival advice on safety and security threats to tourists visiting Thailand. Prior to the 2014 military coup TAT was preparing to adopt these proposals supported by Thailand's tourism industry but changes in the organisation's leadership following the coup meant the idea was dropped.
TAT is preparing to undertake a global promotional blitz following the August bombings. However, re-establishing the confidence of international tourists about the safety of destination Thailand will require measures far more substantive than bells, whistles and a Situation Monitoring Centre.
This article is published in collaboration with New Mandala, the premier website for analysis on Southeast Asia's politics and society.