Sports – or rather, investments in sports – have become a vehicle for competition in Abu Dhabi and Dubai's fight for first place, Simon Chadwick and Paul Widdop write.
Some 15 years ago, English Premier League (EPL) football matches between Manchester City and Arsenal were innocuous affairs – perhaps aside from a little North-South antagonism, which, at the time, sometimes characterised these games.
Nowadays, fixtures between the two EPL giants are more pointed, though off the pitch rather than on it. And there's a reason for this.
Behind each club sits a constituent of the United Arab Emirates (UAE). In City's case, it's Abu Dhabi; for Arsenal, it's Dubai.
The Abu Dhabi United Group acquired the Manchester club in 2008, and has since lavished financial resources on it. Aside from the talent City has acquired, the most visible sign of Abu Dhabi's investments is the logo of its state airline – Etihad – in the middle of the team's shirts.
In Arsenal's case, the club's shirts are sponsored by Emirates Airlines, Dubai's state-owned national carrier – and so is the club's stadium. As a matter of fact, the stadium has only ever been known as 'the Emirates' following the signing of a long-term naming rights deal when the club first moved into its new facility in 2006.
As far as football investments go, competition between Abu Dhabi and Dubai doesn't experience the same venomous undertones that contests involving Qatar-backed football teams do. Nor is there a sense of subservience, as one might find when the UAE is pitted against Saudi Arabian interests be it in football, sport or, for that matter, any other sector.
Instead, the pointedness of relations between Abu Dhabi and Dubai manifests itself as something akin to battling siblings in the same family. This is not just a helpful metaphor; there is significant accuracy in such an observation.
Rulers of both emirates are drawn from the connected tribal families that extend way beyond their borders into other Gulf states. What differentiates the two is that Dubai is often perceived as being the fast-living, ostentatious sibling, whereas Abu Dhabi is viewed by some as the sensible, fiscally responsible, and increasingly powerful one.
On this basis, we set out to examine the network of sports investments in which both emirates are engaged. In particular, we wanted to visualise these networks, but also highlight the key features of each.
Moreover, we were keen to infer from our analysis the strategies used by each emirate and their outcomes. In the visualisations below, the size of the nodes depicts the importance of the entities to each of the countries.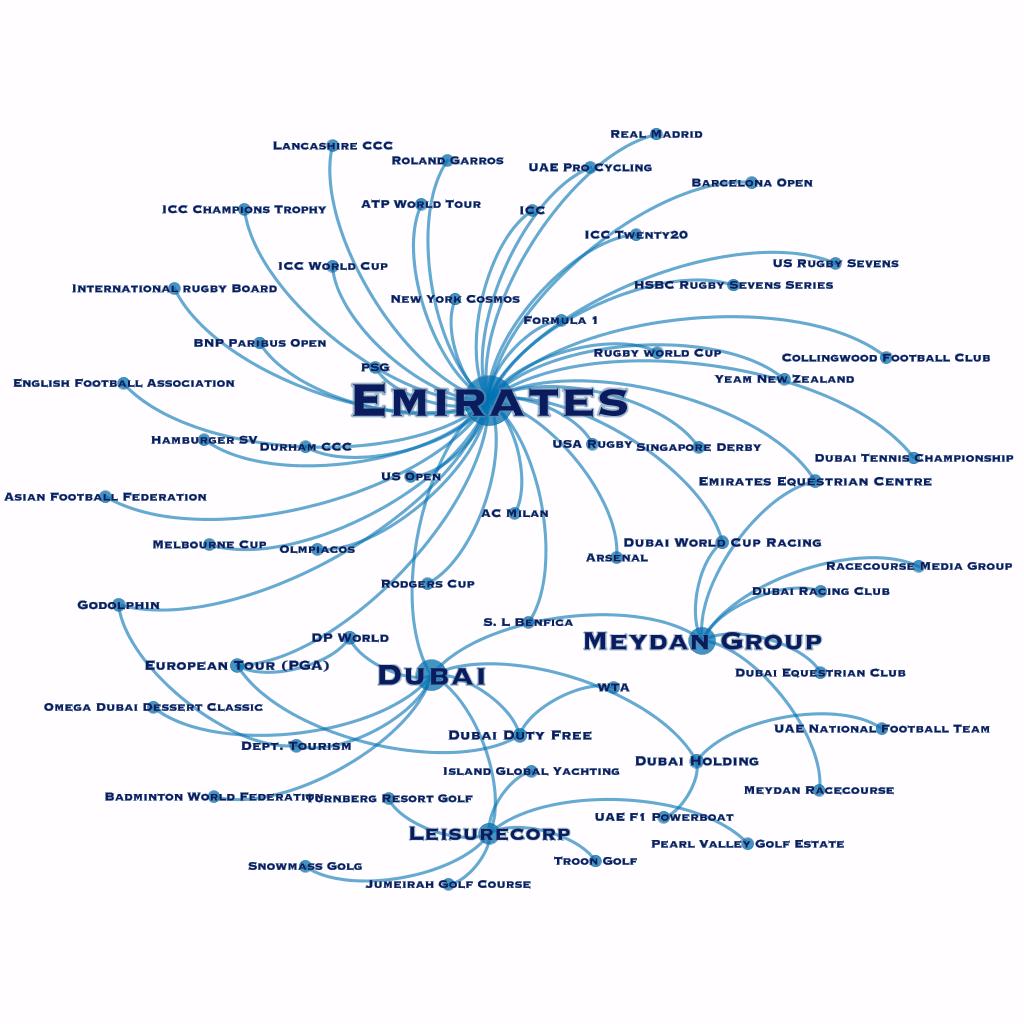 Most striking in Abu Dhabi's network is the prominence of City Football Group (CFG) – of which Manchester City is part. Not only does it bring together a portfolio of football club assets, but it also connects Abu Dhabi with a diverse range of external stakeholders including China Media Capital and Japan's Nissan.
In turn, these investments in football help sustain the profile and presence of Etihad. This consequently encourages the development of further relationships with entities in other sports such as golf and cricket.
Together, CFG and Etihad appear to have turned Abu Dhabi's focus outward, enabling the smaller of the two emirates to connect with properties outside the Gulf region. As such, its Department of Culture and Tourism has some prominence in the city's network.
This signifies that, as in places such as Saudi Arabia and Qatar, sport is being employed as a means through which to drive incoming tourism and generate associated incomes.
Considering this, it is therefore unsurprising that motorsports also appear in the visualisation. Abu Dhabi's Formula 1 Grand Prix has been a perennial on the sport's annual calendar for some time, and the emirate has taken advantage of this.
For instance, it is now the location for Ferrari World, a motoring theme park that was constructed in conjunction with the Italian sports car manufacturer. This helps add to the prestige of Abu Dhabi's nation brand, which is further reinforced by the Louvre and the Sorbonne also having facilities located there.
Being relatively small, though generally cosmopolitan and strategic, Abu Dhabi's network stands in contrast with that of Dubai.
The bigger emirate's network is larger, more expansive, and dominated by its national airline. Over the last two decades, Emirates Airlines has effectively powered the nation's drive to become both a tourism destination and a transit hub for international airline passengers.
In line with their strategy, the airline has sought to cognitively and behaviourally influence global travellers by sponsoring some of the world's highest profile sports properties, most notably in football. If nothing else, both network visualisations are testaments to the power of football and to the love for the game across the Middle East.
Otherwise, Dubai's network reveals an emirate with a strong sense of identity. Prestige and status are evident across the portfolio of sports assets in which the city has invested. Yet there is also coherence in terms of the specific sports that Dubai has targeted, which appears to have been a systematic decision to help establish its position in the global sports landscape.
In conjunction with the International Cricket Council's relocation to Dubai, other assets in the sport have been acquired – especially sponsorships linked to the state airline. Similarly, tennis and golf appear to be important to the emirate, illustrated by the fact that it's hosted several events within its borders and has supported others overseas.
It is noticeable too that equine sports are prominent – though this is unsurprising. Horses are hugely important in Arabic culture: indeed, equine sports also appear in Abu Dhabi's network and in those of Qatar and Saudi Arabia.
From the above visualisations, one gets the sense that Dubai's investments in sports are reaching maturity, whereas those made by Abu Dhabi still seem rather formative in nature.
Whatever the differences, however, both are committed to further spending which will ultimately contribute to the realisation of their respective long-term visions. More importantly for global sports, the UAE is now firmly established as a mainstay of the industrial landscape and is likely to stay.
This piece is published in partnership with the China Soccer Observatory at the University of Nottingham.