Travel bubbles are being planned throughout the Pacific, whilst many Pacific states are launching their vaccine rollout plans, Hugh McClure writes.
Seven Pacific Island countries and territories have recorded additional cases of COVID-19 this week.
725 cases have now been recorded in Papua New Guinea. The death of a West New Britain man this week brings the country's COVID-19 death toll to eight. One new case has been recorded in Fiji, bringing its total to 46. In Guam, 6,969 cases and 118 deaths have now been recorded, while 113 cases have been identified in the Northern Mariana Islands. One positive test result has been returned in New Caledonia this week, bringing its total to 36.
The rapid increase in cases continues in French Polynesia, with 15,618 cases now confirmed and 91 deaths. 12,472 cases have been confirmed in Indonesia's Papua Province, with 5,610 cases confirmed in West Papua Province. Samoa is once again confirmed to be virus-free as the two suspected cases in Samoa have each now returned negative results.
Here is a snapshot of policy responses to COVID-19 in the Pacific region, correct as of 12pm AEDT, 15 December 2020.
The week in review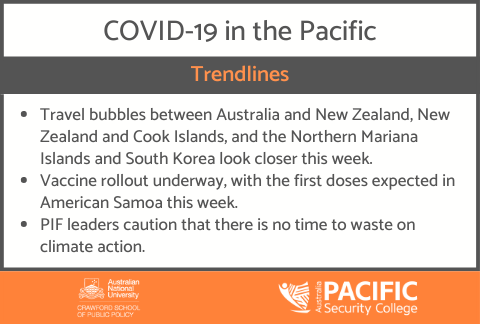 The Pacific region is one step closer to the resumption of travel this week. The prime ministers of New Zealand and the Cook Islands announced that a travel bubble between the two countries would commence in the first quarter of 2021. A travel bubble between Australia and New Zealand has also been granted in-principle approval by the New Zealand cabinet for the first quarter of 2021. Authorities in the Northern Mariana Islands have announced that a travel bubble with its main tourist market, South Korea, is on track to be activated on 8 January 2021. 
Vaccine rollout is underway in parts of the Pacific Island region, with the first shipment of vaccines due to arrive in American Samoa this week.
Meanwhile, in Palau, authorities have predicted that injections will be completed by April 2021, through 'Operation Warp Speed'. Senior health officials have said that the requirement for the vaccine to be held at temperatures below -70 degrees Celsius presents a substantial hurdle in the Pacific, complicating vaccine administration. 
Pacific Islands Forum (PIF) leaders have reaffirmed that climate change is the single greatest threat to the livelihoods, security, and wellbeing of peoples in the region. At a meeting this week, leaders endorsed the development of a '2050 Strategy for the Blue Pacific Continent' ahead of next year's COP26 in the United Kingdom. PIF leaders cautioned that despite the COVID-19 pandemic, there is no time to delay on taking action on climate change.
Samoa is set to receive $2.3 million worth of laboratory equipment and medical supplies for its COVID-19 response through the United Nations Office for Project Services and the World Bank. In other developmental assistance, New Zealand's government has announced new funding to help Vanuatu's recovery from Tropical Cyclone Harold. $9.4 million has been announced for schools, health centres, water infrastructure, sanitation and agricultural support.
Additionally, 800 ni-Vanuatu workers will travel to Australia to take up seasonal worker placements in the next six weeks. The workers will join the 3,000 ni-Vanuatu workers already in Australia.
The first repatriates to travel to Tokelau since borders were closed have arrived home after spending more than a month in quarantine. The group had been in quarantine in Apia since 13 November after they flew from New Zealand. 
The Solomon Islands agriculture sector has performed well in the second half of 2020, despite the COVID-19 pandemic, seeing growth of 2.1 per cent. Agriculture growth has been led by a 58 per cent increase in copra this year. Also in Solomon Islands this week, a three-day workshop designed to strengthen the capabilities of local journalists to report on the COVID-19 pandemic was held. The training aimed to assist the quality of reporting on the pandemic and its economic impacts. 
There is hope that an emergency meeting of the Inter-American Tropical Tuna Commission (IATTC), which manages tuna fish stocks in the eastern Pacific, will be able to result in controls being put in place in time for the 2021 tuna season, which begins on 1 January. In light of changing border policies and fishing requirements, an agreement was not able to be reached on what restrictions should be implemented for the 2021 season. Without restrictions in place, the fish stocks and food security of the region is of concern. The emergency meeting has been scheduled for 22 December.
Briefly this week: with cases continuing to rise in French Polynesia, the curfew in the country has been extended until mid-January; Christmas carolling has been banned out of an abundance of caution in the Northern Mariana Islands; and new figures from the Central Bank of Samoa indicate that remittances have increased by 10 per cent month-on-month.
View the interactive COVID-19 response map here.
And view the full dataset compiled by the Australia Pacific Security College here.