From the 2018 World Cup to gas giant Gazprom, Moscow is using sport to promote its image both at home and abroad, Simon Chadwick and Paul Widdop write.
Russia recently launched the official poster that will be used to promote the 2018 football World Cup. It portrays the image of a leaping goalkeeper reminiscent of Lev Yashin, a Russian football great during the late 1950s and throughout the 1960s.
The imagery used in the poster prompted all manner of discussion on news and social media. Consensus seemed to be that the semiotics of it hark back to communist-era Soviet Union, when the country was in its pomp and at the height of its global power. In other words, the poster's inference is that Russia wants to be considered great again.
For a world now familiar with photos documenting Vladimir Putin's half-naked jaunts into the Russian countryside, this will hardly be a surprise. Putin's annexation of Crimea, the massing of troops in strategic locations along the European Union's eastern border, and general sentiment that Russia interfered in the last US presidential election, all reinforce a feeling that a new Russia is flexing its muscles.
Sport has been a key component of Putin's attempts to reinvigorate his country. The Sochi Winter Olympics in 2014 was perhaps the most tangible, and ostentatious, manifestation of Russia's desire to present a strong, positive image of itself to the world.
The event was arguably the most expensive sports mega-event in history, though it has been subsequently tarnished now that we know many Russian athletes were systematically doping during the event, something the Federal Assembly vehemently contests.
The World Cup in 2018 is intended by Russia as a further attempt to cast itself as a major sporting, economic and political power. However, whether the vision becomes a reality will remain a moot point, at least for a while longer.
The country's sport has become increasingly mired in a drugs scandal that has seen Deputy Prime Minister Vitaly Mutko banned from the Olympics for life, and Russian athletes likewise banned from next year's Winter Games in South Korea.
As ever, President Putin's response to these travails has been somewhat muscular. Indeed, the president's approach to geopolitics in general is largely characterised by hard power (a 'carrot and stick' approach to politics and diplomacy), rather than by the soft power strategies more evidently being practised by the likes of Qatar, China and, for that matter, Britain and France.
Proponents of the latter strategy include countries that use soft power sponsorship as an instrument through which to exert their international and global influence. Several Gulf nations have used football sponsorships to communicate a message of luxury, modernity and globalism, for instance Dubai's Emirates Airline sponsorships of Real Madrid, Arsenal, AC Milan and Paris Saint Germain.
Russia is not entirely absent from the field of soft power sponsorship, though its deals are rather less obvious in their motives and intentions. Many football fans may be aware of Gazprom's sponsorship of the UEFA Champions League and FIFA's World Cup. However, far fewer are aware of what Gazprom is, or why the organisation is investing in elite-level professional football.
Accordingly, we undertook a network analysis to explore key sports sponsorships in which Russian state-owned entities are currently engaged, which resulted in the visualisation below.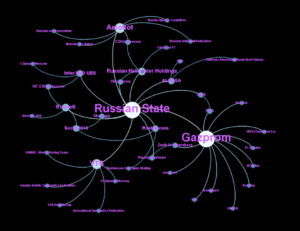 Perhaps the most striking feature of Russia's soft sponsorship network is its strong domestic focus. One normally associates soft power sponsorships with external audiences, typically involving overseas entities.
However, the Russian network suggests that internal audiences are equally important for soft power sponsorships. This is likely to be bound up in the state's belief that it should be seen to support and promote Russian sport. By resourcing sport in this way, it is likely that Russia is seeking to enhance the visibility of its sports, as well as enabling them to better perform in competition.
Nevertheless, soft power sponsorship in a Russian context also appears to be closely related to national identity and the portrayal of muscularity and power that Putin particularly seeks to uphold.
This is most evident among the ice hockey sponsorships in which the Russian state is involved. The country's president is a fan of the sport, believing it represents an image of Russia that is consistent with his own. As such, this suggests soft power sponsorship serves a role in creating and transmitting Russian identity.
The prominence of Gazprom in the visualisation is striking, both in terms of the breadth of properties with which it is associated and the international focus of its soft power sponsorship portfolio.
Gazprom is involved in the extraction, production, transport and sale of natural gas, although is not wholly owned by the Russian state. The corporation principally deals with international energy authorities and states, rather than domestic consumers.
Many observers have questioned the relevance of such a corporation engaging in, for example, shirt sponsorship deals with the likes of football clubs such as Schalke (of Germany) and Red Star Belgrade (of Serbia), and competitions including UEFA's Champions League and FIFA's World Cup.
Notwithstanding the image, recognition and reputational benefits of signing such deals, we contend that Gazprom's sponsorships serve as instruments of Russian soft power.
In Red Star's case, Gazprom's sponsorship of the club was signed at a time when Russia was seeking to influence a Serbian government decision on the routing of Russia's South Stream gas pipeline through the country. Subsequently, there were strong rumours that Gazprom tried to acquire the Serbian club, a deal which ultimately failed to materialise when the Serbian government reasserted its desire to join the European Union.
On the same basis, we also contend that Gazprom is involved in UEFA and FIFA sponsorships because they provide the company with access to key decision-makers in government and in energy companies across key territories in which football is very popular. In a similar way, VTB (a majority Russian state-owned bank) and Aeroflot (a majority Russian state-owned airline) have also been engaged in soft power sponsorship programmes.
This further reinforces our assertion that soft power sponsorship has become an increasingly prominent, new form of sponsorship.
This piece is published in partnership with the China Soccer Observatory at the China Policy Institute, University of Nottingham.